Welcome to the Ralph T. Waterman Bird Club
Interested in birds? We are too! Since 1958, RTWBC has been Dutchess County's bird club. We have a full schedule of regular field trips and monthly programs. We support the science of birds and birding education. And we welcome all who share with us an interest in birds and the natural world. Subscribe with your email below, or use the RSS feeds, to receive our news and announcements, rare and notable bird alerts, or share our latest photos. Explore our Publications: checklists, guides, and an online book with the history of our local bird species. Learn from our Resources: where to bird, FAQs, injured and orphaned birds, and more. And enjoy our beautiful birds — everywhere!
Wednesday field trip to Thompson Pond cancelled due to weather.
Birdsong recording "Dawn Chorus" by Ray Mansell.
Photo Credits (left to right): Long-tailed Duck (Maha Katnani); Snow Bunting (Elisa Shaw); Red-shouldered Hawk (Deb Tracy-Kral)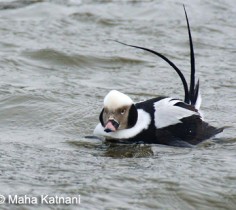 Rare Bird Alert
Latest Photo